The Rainbird Controllers offer a solution for setting up a timetable as to when and how the lawn or plant border areas should be getting watered. Helping to reduce the requirement for manual turning on and off of water and reduces the risk of leaving the water on, which can cause water wastage.
Rainbird WPX Series Controller
The WPX Controller operates using a 9-volt DC battery which fits inside a capped connection on its side. The waterproof case means this item can be installed within a valve box, under ground level. Once the battery dies, the non-volatile memory will hold your program up to 100 years.
There are a range of models available which are dependant on solenoid valve quantities. Generally, this controller pairs with a 1″ diameter solenoid valve however, 1½" and 2″ are suitable should you require the extra flow rate.
Rain Bird WPX Series Controller Scheduling Features
Dedicated manual watering button for easy operation
Automatic zone-stacking ensures that only one valve irrigates at the same time. WPX will automatically irrigate the lower number zone first if zones are scheduled to water at the same time
Contractor Rapid Programming™ automatically copies the start times and watering days from zone 1 to all remaining zones at initial setup
Run times, start times, and watering days are customizable by zone
6 start times per zone
4 watering day options per zone: Custom days of the week, Cyclic, and ODD or EVEN calendar days
Delay watering (1 to 9 days)
Rain Bird WPX Series Controller Types

WPX – 1 station model pre-installed with Rain Bird DV solenoid valve & coil
WPX – 2-station model, excludes valve & coils; Can operate up to 2 solenoid valves
WPX – 4-station model, excludes valve & coils; can operate up to 4 solenoid valves
WPX – 6-station model, excludes valves & coils; can operate up to 6 solenoid valves
Rainbird ESP-TM2 Controller
Designed for domestic and average sized landscape irrigation systems as well as a multi-cable controller. This cost-effective irrigation controller is easy to programme and operate, available
in 4 models and can be installed both inside or outside as the controller features a lockable weatherproof front door. This controller has 3 programmes and 4 start times per programme.
You can select specific solenoid stations to react to a certain weather sensor. This efficiently changes the run-time of every station on the system. With a non-volatile memory, the controller will hold its programme in the event of a power cut or power switch off.
Rainbird ESP-TM2 Controller Types
TM2-4-230V:

 

4 Station 230VAC
TM2-6-230V:

 

6 Station 230VAC
TM2-8-230V:

 

8 Station 230VAC
TM2-12-230V:

 

12 Station 230VAC
Rainbird ESP-ME3 Controller
A controller which is suitable for large landscape projects to small to medium sport projects. It starts as a 4 station modular controller which can be expanded up to 22 stations using either a 3 station or 6 station extension module. This controller has a wider range of options and capabilities opposed to domestic controllers, while being WIFI compatible with the additional LNK WIFI Module installed – this enables you to operate the controller directly from your smart phone.
Rainbird ESP-ME3 Controller Features:
4 independent programmes
6 start times per programme
Seasonal adjustment of all stations from one button
Rain sensor bypass function
Large and easy to use dial
Rainbird ESP-ME3 Controller Controller Types
ESP4ME3EUR:

 4-Station indoor / outdoor

ESP-SM3:

 

3-station extension module
ESP-SM6:

 

6-station extension module
Rainbird ESP-LXME Controller
Suitable for large landscape or sport projects, this experienced and widely used direct wire controller with a large display which is simple to use and can be used to cover small and large operations. Pair with an extension module, this controller can expand up to 48 stations.
This controller can be upgraded to include the IQ Network Communication Cartridge which features its own IP address and SIM card so you can program the controller from your smart
phone via the RainBird mobile app.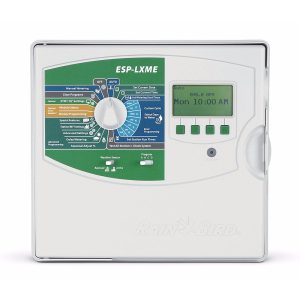 Rainbird ESP-LXME Controller Features:
8 station controller base unit (expandable up to 48 stations with extension module)
Multi-cable controller with 5 solenoid stations (each can operate simultaneously)
Dynamic station numbering
Master valve/pump start circuit
UV-resistant with a lockable wall-mounted plastic case
Rainbird LX-IVM Controller
A powerful controller which features integrated valve modules in place of solenoid coils on all valves, these act as a microprocessor. Although this system does not have decoders within it, it still operates on the same twin core cable.
The IVM Modules communicate directly with the LX-IVM Controller, if the cable connection begins to fail, the IVM Module will send a message to the controller. You'll receive a weekly report outlining that the module is losing current so that you can rectify the issue
before it breaks down completely.
This controller uses IQ4 Cloud Technology which means you can control the irrigation system from your smart phone or computer device.
There are two models to choose from:
LV-IVM – has up to 60 stations, 10 programmes and up to 8
simultaneous stations
LV-IVM PRO – has up to 240 stations, 40 programmes and
up to 16 simultaneous stations